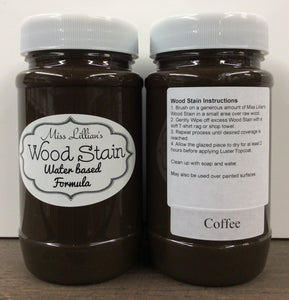 Miss Lillian's Colorful Wood Stains are a High Performance, Water Based Stain developed to be used on raw wood. 
Our Wood Stains give full coverage in just One coat!  No need for Pre-Conditioning and it Cleans Up Easily with soap and water!
We Recommend One of our Luster Topcoat Products to seal for extra protection.
WOOD STAIN  APPLICATION INSTRUCTIONS
Brush on a generous amount of Miss Lillian's Wood Stain in small sections over raw wood.
Gently Wipe off excess Wood Stain with a soft T-shirt, rag, or shop towel.
Repeat Process until desired coverage is reached. Allow the glazed piece to dry for at least 2 hours before applying one ouf our Luster Topcoats.
Clean up is easy with soap and water.
Wood Stain may also be used over painted surfaces.