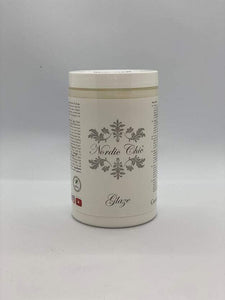 Nordic Chic® Glaze comes in a Clear version and a Pearlescent. The Pearlescent version. gives your furniture that extra bit of Bling. It can be used to enrich uncoated timber surfaces as well as a refining finish for Nordic Chic® Furniture Paint or Nordic Chic Woody stains.
The Clear version is to be used mixed with Nordic Chic Furniture Paint and water. This will make a thin glaze to apply onto painted surfaces to give extra accent to details. The Glaze is made for indoor use – if you wish to use it outdoors it needs to be sealed with Nordic Chic® Topcoat. It is solvent-free, zero VOC and no-smell to ensure a pleasant working atmosphere.

How to: Make sure the surface is clean, dry and free of grease and penetrating substances. Remove loose coats of old paint or lacquer first. Thoroughly shake or stir the product before use.
Pearl Glaze: Paint one coat; then wipe the surface with a soft cloth when still wet to create a transparent finish. To obtain a more opaque look leave to dry for 3-6 hours instead. To create a deeper Pearlescent colour apply a second coat of Pearl Glaze after the first one is at least touch dry.
Coloured Glaze: mix 1 part Nordic Chic® paint with 5 parts Clear Glaze and water as to how thin you want your coloured glaze. Paint one coat; then wipe the surface with a soft cloth when still wet to create outstanding details. To increase durability a finishing coat of Nordic Chic® Furniture Wax or Top Coat may be applied after the product is fully dry. Drying time: Touch dry after approx. 1-2 hours, fully dry after about 24 hours. Coverage: 3-4 m²/litre approx. Cleaning: The paint brushes are cleaned with warm soapy water. Storage: Keep lid tight and store in a cool but fros-tfree area and out of reach of children. Ingredients: Water, white glue, mineral pigment, preservative.


Content 400 ml