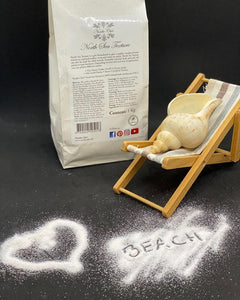 North Sea Texture is a grit formulated to give a perfect weather-beaten texture to a painted surface, worn and rustic to touch. North Sea Texture can also be used for relief stencils, beautiful concrete look and add old patina to your furniture.
Depending on your mix and way of application, you can achieve different results:
- Flat Matte Chalky Finish
- Ocean swept
- Old world Patina
- Heavy Crackled Texture
Nordic Chic® North Sea Texture is 100% natural and contains no VOC's.
How to: The surface should be clean, dry and free of grease. You should mix North Sea Texture into your Nordic Chic® chalk paint, stirring it thoroughly and stipple or paint it onto your surface. Once it is dry you paint over with either the same colour or a different colour chalk paint. When this is completely dry you can start sanding it. This will smoothen the surface and the colour  you mixed with the North Sea Texture, will be visible in a weather beaten look. You decide how rough you want the texture to be, by adding more or less Nordic Chic® North Sea Texture to your paint.
Tools
: You can use brush, trowel or roller depending on what look you want to achieve
Coverage
: 0,1 kg Texture to 0,41 kg Nordic Chic® chalk paint to cover approx.. 5 m2 – all depended on what look you want to achieve – You should only mix the amount you need to use.
Cleaning
: Wash out brushes and rollers with warm soapy water
Safety
: This product can create dust when mixing, make sure to wear a mask so as not to inhale. Keep out of reach for children
Storage
: Keep in a cool dry place