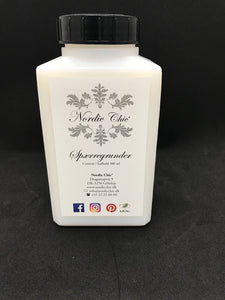 Nordic Chic®

 Primer
 is Clear
Coverage: Approximately 70-90 millilitres per square metre. Half a liter
is enough for 6-8 square metres – depending on the properties of the
surface.
Colour: Clear
Thinner: n/a - product is ready-to-use.
Drying Time: Depending on room temperature and relative humidity,
the product will normally be touch dry after 15-30 minutes and ready for
sanding down after 45 minutes. The surface can be given the second coat
after about 2 hours.
APPLICATION INSTRUCTIONSPreparation:
 The surface should be dry, absorbent and free from grease
and dust.
Application
: Apply Nordic Chic Top Coat undiluted in two coats.
A light sanding is advisable after the first coat has dried
(grain size 180 – 240). Apply Nordic Chic Top Coat thinly.
Tools
: Brush, roller or a suitable spraying device (e.g. Airless or Aircoat).
Apply sparingly. Use soapy water for cleaning the tools.
Storage
: Store containers tightly sealed in a cool but frost-free place.
Ingredients
: Water, earth pigments, tensides, mineral filling material,
vinegar ester, 0.1% synthetic preservative (MIT / BIT)
Safety
: Even if non-poisonous keep out of the reach of children.
Disposal
: Allow unused enamel paint to dry. Get rid of the leftovers
according to the local rules in force. Do not dump into the drain.
VOC Directive
: VOC-Content (g/l): 0.01