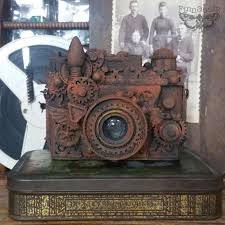 Rust Paste Set
is really fun and easy to use.
This set of coarse, water-based pastes is made to imitate the rust effect and it works instantly, so it is perfect for these projects in which you can't wait for the real rusting reaction. Of course it is only an imitation, but in reality it is perfect for creating matte, rust-like texture and adding dimension, great for steampunk, grunge and masculine project - can be applied on all surfaces, especially if it is primed with gesso.
To get the best effect you should apply 3 colors of the paste on one project with a sponge, palette knife, texture tool or paintbrush to create multi-tone effect.